| | |
| --- | --- |
| Hauptstadt: | Arrabar |
| Bevölkerung: | 1.900.000 (96% Menschen, 2% Elfen, 1% Zwerge) |
| Staatsform: | Konföderation von Stadtstaaten |
| Staatsoberhaupt: | Fürst Eles Wianar von Arrabar |
| Klima: | Subtropisch |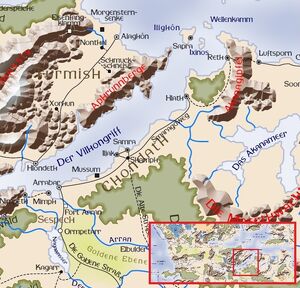 Das Handelsimperium Chondath entstand ab dem 2. Jahrhundert Taliser Zeitrechnung aus den Hafenstädten am Vilhorngriff. Um das 8. Jahrhundert herum stand es in voller Blüte und war eine der mächtigsten Handelsnationen Faeruns. Die Chondather besiedelten ferne Küsten und gründeten auch die Städte des heutigen Sembia. Dann jedoch wurde Chondath von den Elfen ausn Cormanthor zurückgeschlagen und musste seine nördlichen Besitzungen aufgeben, aus denen 913 TZ Sembia gegründet wurde. Das Reich von Chondath zerfiel in einem Bürgerkrieg zwischen den mächtigsten Handelsstädten und ist heute nur noch ein Küstenstreifen unabhängiger Stadtstaaten.
Ad blocker interference detected!
Wikia is a free-to-use site that makes money from advertising. We have a modified experience for viewers using ad blockers

Wikia is not accessible if you've made further modifications. Remove the custom ad blocker rule(s) and the page will load as expected.