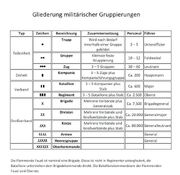 Organisation: Söldereinheit
Stärke: Brigade
Anführer: Herzog Elthan von Baldurs Tor
Aktionsgebiet: Die Schwertküste
Die Flammende Faust stellt die inoffizielle Armee der Stadt Baldurs Tor dar. Ihr Anführer ist einer der Großherzoge der Stadt, Herzog Elthan. In der Blütezeit von Baldurs Tor bestand die Flammende Faust aus einer vollen Brigade mit acht professionellen Bataillonen, welche die öffentliche Ordnung und Sicherheit an der Schwertküste auch weit außerhalb der Stadtgrenzen sicherstellten.
Im Jahr 1375 TZ wurden große Teile der vorgeschobenen Bataillone überraschend aufgelöst. Die erfahrensten Dienstgrade kehrten nach Baldurs Tor zurück, während die meisten Fußsoldaten mit einer geringen Abfindung auf die Straße gesetzt wurden.
Ad blocker interference detected!
Wikia is a free-to-use site that makes money from advertising. We have a modified experience for viewers using ad blockers

Wikia is not accessible if you've made further modifications. Remove the custom ad blocker rule(s) and the page will load as expected.