Dusturil ist eine Ortschaft in Cormyr, gelegen am Grenzfluss zu Sembia.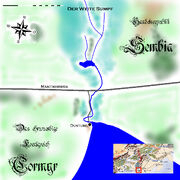 | | |
| --- | --- |
| Größe | Ansiedlung (481 Einwohner) |
| Wohlstand | Durchschnittlich, Tendenz fallend |
| Machtzentrum | Gildenrat |
| Gesinnung | Neutral Gut |
| Regierung | König Azoun V. von Cormyr |
| Repräsentant | Oberst Burghardt Stelzer von Uhlenbrock, Kommandant des Grenzschutzregiments Ost in Weloon |
| Völker | 96% Menschen, 2% Halblinge, 1% Elfen, 1% andere |
Spielerwissen
Edit
Dusturil war einst eine florierende Hafenstadt und eine Garnisonstadt der Purpurdrachen. Die Kriegsanstrengungen Cormyrs in Übersee führten in eine Abwärtsspirale aus seltener werdenden Handelsschiffen und abwandern der Handwerker aus Dusturil. Das verbesserte Verhältnis von Cormyr und Sembia führte zum Abzug der Grenztruppen aus der Ortschaft, was der örtlichen Wirtschaft einen weiteren schweren Schlag versetzte.
Öffentliche Gebäude
Edit
Gildenhalle
Tempel des Gond
Wirtshäuser: "Zum Kesselflicker", "Die arglose Zigeunerin", "Zum langen Knackschnabel", "Zum dustigen Seemann"
Wirtschaft
Edit
Landwirtschaft (ca 50% Getreidebauern, 25% Viehbauern, 25% Weinbauern)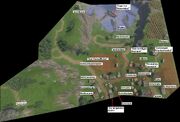 Fischerei
Ehemals Schmiede (Die günstige Gewinnung von Brennstoff durch Torfstecher im nahen Sumpf begünstigte die Ansiedlung von Schmieden. Die örtliche Garnison sorgte für hohe Nachfrage.)
Interessante Orte
Edit
Auf einem Hügel an der Flussmündung befindet sich die Ruine eines mächtigen Wehrturms.
Ad blocker interference detected!
Wikia is a free-to-use site that makes money from advertising. We have a modified experience for viewers using ad blockers

Wikia is not accessible if you've made further modifications. Remove the custom ad blocker rule(s) and the page will load as expected.