| | |
| --- | --- |
| Name | Ragosch bin Hamman |
| Herkunft | Char Qardak, Threskel, Schachenta |
| Volk | Halbork |
| Profession | Sprachmittler |
| Status | Früherer Begleiter der SC, im Streit getrennt |
| Letzter bekannter Aufenthalt | GAP Licorne, Threskel, Schachenta |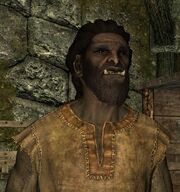 Ragosch ist ein Einheimischer Thresk-Halbork, der für die ASS als Sprachmittler arbeitet. Lieutenant
Mathis de Alaghon
nutzt seine Fähigkeiten als Dolmetscher und Ortskundiger.
Nach einigen Tagen als Reisegefährte der SC trennte er sich im Streit von der Gruppe, da diese aus seiner Sicht brutal und unbegründet einheimische Banditen hinrichteten.
Ad blocker interference detected!
Wikia is a free-to-use site that makes money from advertising. We have a modified experience for viewers using ad blockers

Wikia is not accessible if you've made further modifications. Remove the custom ad blocker rule(s) and the page will load as expected.